Promoting Cycling
Why Encourage your Staff to Cycle?
Encouraging staff to cycle to work can provide the following benefits: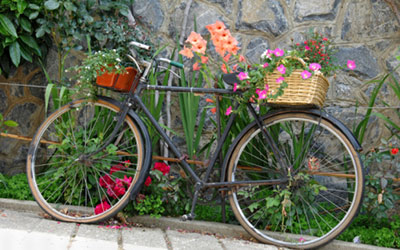 On time: in rush hour, a bicycle can be twice as fast as a car in busy traffic. That means people who cycle in to work are less likely to be late.
On the ball: cycling boosts the brain cells and makes employees happier, more alert and motivated at the start of each day. They're likely to be more productive, and they'll also work off any stress at the end of the day on their ride home.
Fewer sick days: regular cyclists can be as fit as someone ten years younger, and their immune systems will be stronger – which means a happier, healthier workforce and one less likely to be off sick with minor colds and flu.
Better for your company image: With more cycle commuters in your company, and by offering support for them, you can demonstrate your business' commitment to sustainability and the health and well-being of your staff. This will strengthen your Corporate Social Responsibility status and can contribute to your ISO 14000 standards.
It saves money: employees who take their bikes rather than cars to meetings or to catch the train won't have to claim back costs for parking or fuel, which means you'll have fewer expenses to cover.
What this toolkit offers
This toolkit offers step-by-step information on promoting cycling within the workplace including:
Toolkit information
This toolkit has three template emails and posters that are quick and easy to send to staff. We suggest that you do these under the umbrella of Bike Week (typically between 9th-17th June each year) but you can also do these at any other time of the year as well. It also offers information on free cycle training, how to organise a Bike Day at any time of year and a list of useful websites and ideas. Remember, these ideas are just a start, feel free to get creative and make up your own events!
Print version of this toolkit