Choosing your ride
If you're fancying heading out for a pedal, the first thing you may need to do is choose a bike that's right for you.
There are umpteen different types of bikes and countless options on the market, but you shouldn't feel bamboozled from the outset.
Always make sure you choose a bike that is the right size for you or your child a reputable bike shop should be able to assist.
Your local bike shop can give you advice on the best new bike for you, or on repairing an old one, and your decision will be made simpler by how you plan to cycle.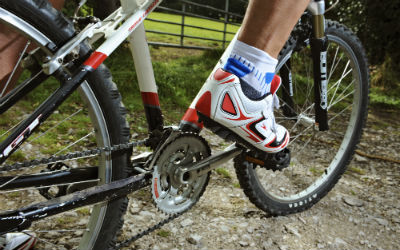 The most common kinds of cycles are road bikes (lightweight, fast and perfect for racing), mountain bikes (designed for off-road riding), hybrid bikes (for the best of both worlds), folding bikes (ideal for cycle-rail journeys) and electric bikes (good for hills and extra assistance).
Each type of bike has its pros and cons, so tips from Sustrans and Cycling UK can help you see what to think about – whether you're replacing your rusty ride or buying a child's first bike.
Other gear
You've got your bike, but what else do you need?
Depending on where and how you plan on cycling, you may need to consider clothing and safety accessories to get the most out of your riding.
Waterproof jackets, high-vis jerseys, sunglasses, skullcaps, padded shorts and gloves are just a few wearables that might help keep your warm, dry and protected from the elements.
And don't forget that grippy pedals, reflectors, lights, winter tyres, bells and mudguards can all contribute to making you easier to spot, safer and more comfortable while cycling.
There's a huge scale of kit – from the cheap and reliable to the pricey and elite – on offer, but a good place to consult is BikeRadar.
Maintenance
More rolling, less repairing
Keeping your bike in great condition can be a doddle.
Typically, just a bit of care every now and then is all you need to prevent problems from arising – and often just riding your bike for a short distance can tackle any issues with moving parts.
The 'ABC' check is a handy way to check your bike's air, brakes and chains on a regular basis, so try to keep this easy-to-remember process in mind.
Cleaning and oiling your bike with appropriate lubrication (not WD40!) is also essential advice for anyone looking to prevent minor nuisances from developing into major faults.
If you want to learn more, consider going on a bike maintenance course – they're often free and they can show you how to fix things yourself and save money.
Ask at Recycle-cycle in Crewe to see if they a running a maintenance course.
And if in doubt, your local bike mechanic or repair shop should be able to restore most of your equipment to its former glory.
For tips, or to find maintenance courses near you, Cycling UK has some handy advice and links.