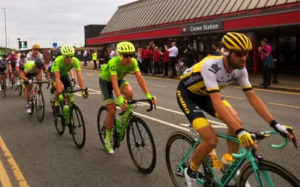 Tour of Britain boosted local economy by £3.5m
Hosting stage three of The Tour of Britain cycle race generated £3.5million for Cheshire East's visitor economy.
More than 300,000 people lined the route when the prestigious cycle race came through the borough on September 6.
Crowds turned out to watch Olympic cycling legends such as Sir Bradley Wiggins and Mark Cavendish, as well as local rider Ian Stannard who won the stage.
Now an independent report on the legacy value of the event has concluded that it provided a massive boost to Cheshire East's visitor economy. More than 60% of those attending the event came from outside the borough.
The report found Cheshire East Council's investment of £227,000 in bringing the stage to Cheshire East generated £3.5m in economic impact for the borough's economy.
The Tour also helped to promote cycling and healthy lifestyles locally, with the report finding 59% of spectators felt inspired to cycle more often.
Meanwhile, various community events, including arts and cultural activity and competitions in schools, managed to build enthusiasm for the race locally.
The race, which started in Congleton and finished in Tatton Park, in Knutsford, helped local business development, boosted the area's media profile, promoted healthy living and community engagement and raised the area's profile as a destination.